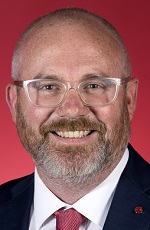 Senator for NSW
Assistant Minister for Trade Assistant Minister for Manufacturing
Australian Labor Party
Total Interests: 14
Latest alteration: Shareholdings - 2/09/22
Source: Statement of Registrable Interests - this contains interests declared as at 24/08/22 and alterations since then.
This statement contains interests declared as being held on 24/08/22 and any alterations since then, including new interests and amendments and deletions to existing interests. The date of an alteration is when it was declared to the register, not when the change occurred.
Unfortunately, due to Senate restrictions the interests of senators' spouses/partners and dependent children are not publicly disclosable.
Open Politics has amended the wording and formatting of some MPs' and Senators' declared interests to improve readability or to correct mistakes. To notify us of a mistake or oversight, email sean@openpolitics.au.
Problems: Tim Ayres breached the Prime Minister's new ministerial code of conduct by retaining his shareholdings in Resmed and Cochlear. After Open Politics revealed this on August 27, Ayres declared to the Register of Senators' Interests on September 2 that he'd subsequently divested his holdings.